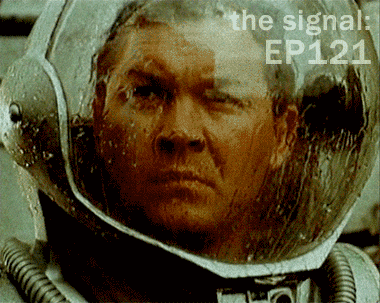 The Signal: EP121 – It's pouring outside and the apartment is quiet. A cat tries to find the most imposing position possible that it can use to sit on me. On top of everything else, now there's 45 minutes of music from around the world, available for download. What an age we live in.
This installment, you'll be hearing some unique sounds from South Africa, rock from Hungary, Canadian pop about California, rocksteady from Jamaica, funky music from the U.S. and France, an avant garde vocal ensemble, vaporwave from New York, and a homemade blend of sketch comedy with plunderphonic Hawaiian vibes. If that sounds at all interesting, click on the link or image above to get yourself a copy.
The file is posted for a limited time. If you want to know artist/song titles, that information is in the id3 tags of the file itself. Most players can read that info for you. I have a few notes below about the process, should that be of interest.